I have seen cute mini trees all over (costing a pretty penny!) I knew my cheapness…and craftiness wouldn't never be okay buying them when I could DIY some myself–so I did and then I wrote up a tutorial so you can DIY your own!


I have 4 different ways on how to make them (although the options are truly  endless) The only thing that are a must are these
FloraCraft® Make It: Fun® Foam: Cones


They come in lots of fun sizes so pick a few in varying sizes (you could even do mini mini mini ones! So cute!)

First style: Yarn wrapped. 
Using a  glue gun you just glue on the yarn to the very bottom and work your way up! (I love this chunky yarn!)
Second variation: Paper wrapped.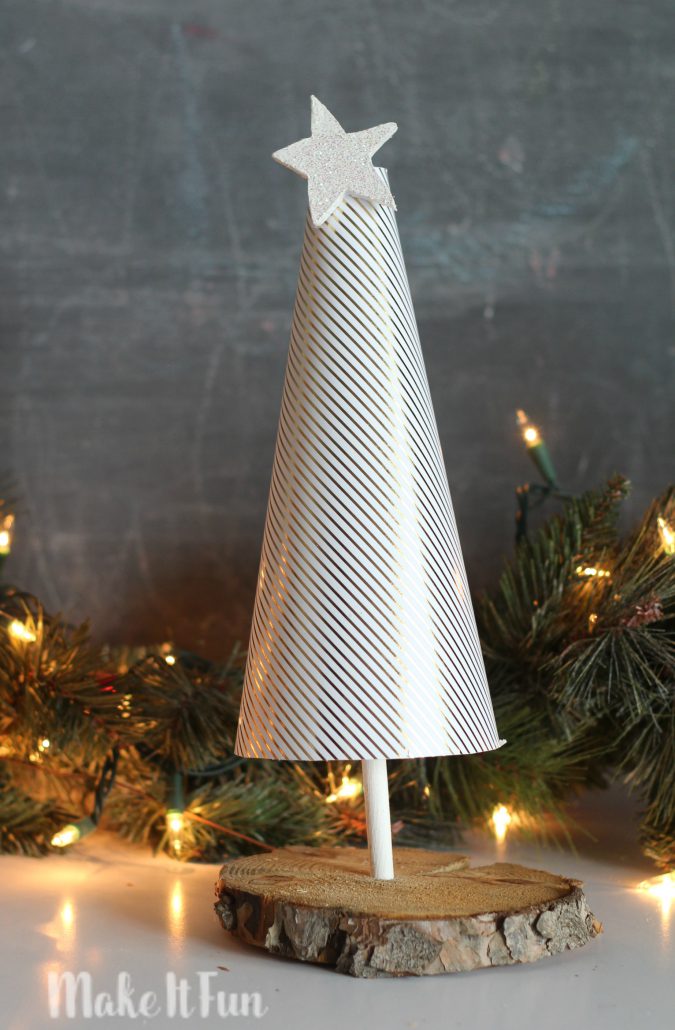 So easy. Just a 12 by 12 sheet of paper
Wrap it around and glue closed and trim off the excess. 
Variation 3: GLITTER! Everything is better with glitter!
I cover it in glue and sprinkle it on! With Christmas lights nearby it totally shimmers!
Last but not least: Paper layers
This one looks tricky…but it's not! I just cut up white paper and made some zig zags. Then curled up the edges and hot glued it on starting from the bottom. 
I added mine to a wood slice base–I think it adds a little something something!
You could just set it down on them.
or drill a hole in the center
and add a dowel (stick in the foam tree and stick in the wood base!
I love how they turned out!

My FAVORITE part about these is that there are SO Many ways you could make these. I have showed you 4 ways…but  think about making them all colorful instead of white. Or add buttons, Popsicle sticks, lace, peppermint candies, washi tape, little snowflakes, wrap in lights…just SO options to make them your own! Happy Crafting!