This posted over on Make if Fun blog a few weeks ago!
I ran across the cutest cloud shelf on Etsy the other day. It was made entirely out of wood– and while I can run a saw….I still wanted a cheaper, easier option! So I came up with this cloud shelf version made with FloraCraft® Make It: Fun® Foam!
(This post may contain affiliate links) 
Here is what you need!
These Ikea spice shelves are really cheap and so versatile!
I grabbed a sheet of FloraCraft® Make It: Fun® Foam and a cutter! 
I held it up to the back of the shelf and measured how big to cut the piece. 
It should fit nice inside.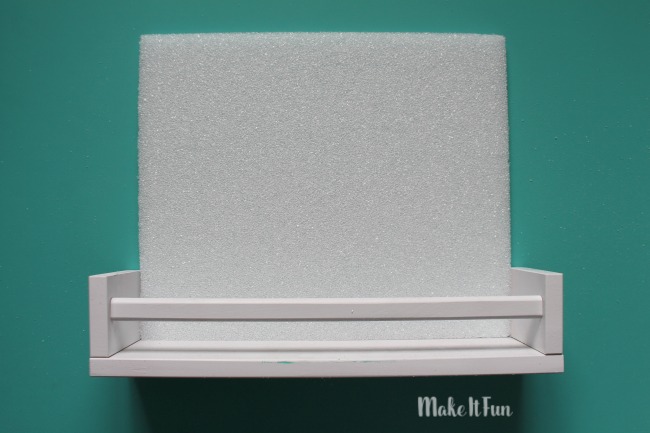 Then I just cut out a cloud shape. (Making sure to keep the bottom the same width as the shelf)
Then hang up!
My actual idea was to wrap them in stuffing and then fabric…but I actually liked the way the foam looked just like this! But you could have a lot of fun with this basic idea! Wrap in fun fabric. Cut out little rain drops and hang from the cloud and make a mobile for above a crib! Options are endless!