This post may contain affiliate links
Today I am killing two birds with one stone! (that sounds cruel. No birds are actually harmed in the making of this craft) I'm part of Craft Lightning (busy bag–kid activity crafting)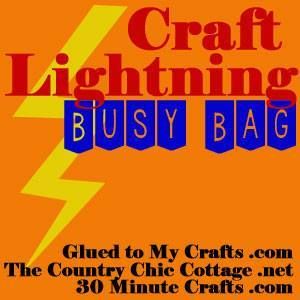 And I recently got this awesome book in the mail from Jaime—
It's chock full of 100 kids activities that are made from stuff you have around the house!
and color coded! So each color is a different part of the house!
Like supplies from the bathroom! 
My kids had a blast flipping through it and bookmarking all the fun stuff to make!

You can grab a copy of  creating  Really Awesome Free things book HERE
What we landed on was making a fun monogram with a cereal box!
and then of course..in true AGAAGG fashion…took it to the next step!
So many ideas! Let's get started!
What you need: Cereal Box
Just cut up the side and open it big!
I sketched out some letters–but if you don't freehand well you can find a good font (I like Bebas Neue) and print one out and use it as pattern
and then cut it out (or have your kids cut it out if they are old enough!)
Then….the world is your oyster! (I ended up spraying them all down with white spray paint for a nice clean surface to work on!) 
So many fun ways to decorate! You can  add washi tape
Just have the kids cover it and trim off edges!
Let me tell you a trick with letting your kids create. If its something I want to use…I limit the color/pattern choices for my kids. I choose colors that compliment each other and then no matter how the kids decorate…it still looks pretty. Because lets face it…if you give kids whatever color paint they want…they will probably end up mixing it and then you are going to end up with poop brown!
So I picked what color sharpies and then she got to create whatever she wanted!
Have them cover one with pom poms!
What about using macaroni! They could even paint it!
Stick on some stickers or vinyl
wrap some yarn around it
Glue on some buttons in a fun design!
Paint (or watercolor) or even fun paint pens!
and even glitter! (my daughter LOVES glitter! Have them draw some fun designs on with glue and cover with glitter!)
You can use them as a fun phrase to hang up on a wall
Or a monogram on the door.
Or even on a present!
and this one is my favorite…Punch some holes and make some customize lacing cards!
So go grab some cereal boxes and create the whole alphabet!
Randomly *but not super random since it's a kids craft AND an upcycle! Look what my daughter created the other day! So cute!